Home » Females » Cami-Van Sevimli hayvan
GIC - Cami-Van Sevimli hayvan
EMS-code: TUV d 62
Born: 18th of June 2009
Pedigree
Cami-Van Sevimli hayvan is called Cami in our home.
She was born in Czech Republic in the home of our good friend Zdenek Hejna who we have visited serveral times over the years and have been incredible nice to us and guided us around in the wonderful country of Czech Republic.
Cami is a sweet cat and she takes really good care of her kittens and does not mind sharing them with the rest of us.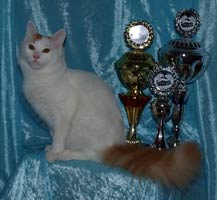 Cami startet a promising show carrier with a few nominations and best in variaties but unfortunately she has had a bad experience at a show when she was only a youngster. Therefore she is not much of a showcat anymore but she had produced very nice kittens.
Cami has got the kittens:
H-litter - Born 15th of Julyi 2011:
Safkan Kedi's James Dean (TUV d 62) - Neutered
Safkan Kedi's Grace Kelly (TUV d 62) - Fertile living with us
Safkan Kedi's Marilyn Monroe (TUV d 63) - Neutered
Safkan Kedi's Ingrid Bergman (TUV d 62) - Neutered
Our plan is to do a mating between Cami and Zeus one more time.

Click here to go to the top of the site