Home » DK Safkan Kedi's
Cattery DK Safkan Kedi's
Safkan Kedi's is Turkish and means pure breed Cats.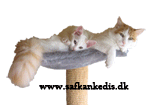 Our cattery is with JYRAK, Denmark an approved Cattery. The "approved Cattery" means that we are following some rules that is considered ethical for cats and kittens. All our cats leaves our home with a Felis Danica (FIFe) pedigree.
Vision for Safkan Kedi's
We work to improve the knowledge of the Turkish van cat.

We wish to keep the Turkish van cat as pure breed and without interference from other breeds, but at the same time prevent inbreeding and diseases. Therefore we use only breeding material of high quality and without any known diseases in the pedigrees.

We give high priority to our cats and spend a lot of time with them. We do not allow mating of our cats untill they are ready for it, which means that we produce kittens with excellent health and a great temper.

All our cats live as part of our family, which means that our kittens are happy and well socialized.

We prioritize quality before quantity, therefore we have only a limited number of cats in our home and only have kittens occasionally.

We give lifelong support for our kittens, and are always happy to show our cats to anyone who is interested.
Safkan Kedi's acchievements:
2003: We got our first Tyrkish Van cat - Soyadi's Anamur.
2005: We had our first litter, and in that litter was the first tortie Turkish Van kitten born in Denmark. Also in the same litter was the first creme coloured Turkish Van cat in Denmark - Safkan Kedi's Joachim.
2006: This was the year where we were the first breeders in Denmark to breed a blue-tortie Turkish Van cat - Safkan Kedi's Marie Curie. This was also the year we decided to buy our own stud boy Little Tim Van Kedi vom Glasbach which we got from Germany just before Christmas.
2007: This year we saw our first black Turkish Van kitten, and in the same litter was the first blue Turkish Van kitten born in Denmark and there were 3 blue kittens in that litter. With the birth of that litter we became the first and sofar the only breeders in Denmark to get kittens in all approved colour variations and thereby achieving one of our goals that we set for ourselves when we started up as breeders.
This was also the year that Safkan Kedi's Pierre Curie won his first BIS on a FIFé show. It was the first time in several years that a Danish bred and owned Turkish Van Cat achieved this honour and he did it 5 times that year. And by doing so Pierre won the title "Turk of the year" in the Swedish Club Vangoran with the highest possible number of points.

2008: This was the great show year where both Little Tim Van Kedi vom Glasbach and Safkan Kedi's Pierre Curie obtained the title of European Champion/Premier - now known as Supreme Champion/Premier. They were the first and sofar only blue and creme coloured Turkish Van cats to achieve this title in Denmark and possibly in Europe.
This year Safkan Kedi's Pierre Curie also obtained several good show results which earned him the honour of being "Topkat" in Jyrak - the largest Cat fanciers association in Denmark, this was the first time since the 90es that a Turkish Van Cat earned the great and prestigious honour.
We also had great show success on other fronts, amongst others our G-litter won Best litter or Best Semilonghair litter on several occations - at one show out of 19 litters.
Our Safkan Kedi's Elvis Presley won our first Best in Show for a kitten but later that year our Safkan Kedi's Apollon also achieved this title.
These great show results earned our cats the titles of Best Fertile Van cat, Best Neutered Van cat and it also meant that we won the title of Best Breeders in the Swedish Club Vangoran.
2009: This year also meant great show success for our cats. Our SP - Safkan Kedi's Pierre Curie obtained the title of Distinguished Show Merit as the first and sofar only Turkish Van Cat i Europe, which is the highest show title a cat can achieve in Fifé.
Pierre was again amongst the "Topkat" in Jyrak, this year as number 3 out of 5.
Also our Safkan Kedi's Freja the Fighter and Safkan Kedi's Zeus both won Best in Show as the first of our fertile cats.
2010: For the third year in a row our SP - Safkan Kedi's Pierre Curie (DSM) succeeded in finishing amongst the top 5 ín Jyrak and this year as the first runner-up.
Safkan Kedi's Zeus obtained the title Surpreme Champion this year.
2011: Safkan Kedi's Zeus started his "carrier" as our new stud boy and this year he was the proud father of 3 litters one of which was with our own queen.
2011 was alos the year our future queen Safkan Kedi's Grace Kelly won a couple of Best in Shows as a kitten.
Also I became a member of the Turkish Van Breed Council.
2012: In January I became the Secretary of the Turkish Van Breed Council which means that I am in charge of organizing the work of the Breed Council and also act as a spokesperson on behalf of the Breed Council in matters concerning the Turkish Van Breed.
We succeeded through the Danish Special Club of Turkish Van Cats in changing the Breed and Registration rules so that solid white cats are not allowed in the Pedigree of the Turkish Van Cat.
About us
We are a small family with 3 people. We have the common interest that we are crazy about anything to do with cats. Therefore we decided in 2003 to buy our first purebred cat with the intend of starting breeding cats later on. We started breeding in 2005 when our female Soyadi's Anamur, we call her Malou, had her first litter. We found that it was very interesting to follow the growth of the kittens and have decided to have another litter here in 2006.
Our family consists of: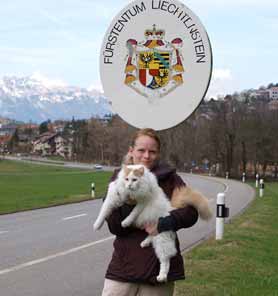 Pernille aged 37, works as a radiographer at the hospital in Aalborg. This is a very interesting but also demanding job that is constantly evolving. Previously I have among other things worked at "Kattens Værn" (a shelter for homeless and abused cats) in Aalborg where I took part in the day-to-day care of homeless cats. At times it was tough to watch cats that came from not so nice circumstances, but that is part of working in such an environment.
Mads aged 39, works in the shipping industry. It is a very interesting and varied job unfortunately at times it calls for very long working days. Besides the interest in cats I follow the local sports teams closely.
Our son Mathias aged 16. He of course attends school.
Background
My interest for cats started when I was a little girl, but back then pure breed cats was not so common, especially not when your parents was from the country. Therefore I did not get any real knowledge about pure breed cats untill I started my job as a volunteer in a Cat shelter in 1993. It was just the most common pure breed cats that we saw in the shelter, but my interest for pure breed cats became bigger every day, and I knew that I would start breeding cats one day. In 1993 I started reading a lot of books about pure breed cats, but at that time I thought that I was to young to start my own breeding program. Therefore I only had interest in pure breed cats in general without any preferred breed.
In 2002 my old cat was very old, and he needed some company from a younger cat. Therefore I started reading about the different breeds and their temper. It was important to us that I got exactly the breed that would fit best into our family. At first it was hard to decide untill the day I saw a picture of a Turkish Van cat in "Politikkens kattehåndbog". That was definitely the breed for us. I had never seen such a beautiful cat before. The cat was Soyadi's T van Alexander. We read that the Turkish van cat was a very rare breed in my country, but since I could not forget this beautiful cat I succeeded in finding a breeder of the Turkish van cat in 2003. Later on I realized that the breeder was the proud owner of the beautiful cat from the book. Cattery Soyadi's had just had kittens, and after a couple of visits we decided to buy our first Turkish van cat; Soyadi's Anamur. - A little red/white female that we called Malou. She is actually the granddaughter of Soyadi's T van Alexander.
We bought the kitten to cheer up our old cat, and it was our intention to use her in a breeding program when our old cat had past away. Unfortunately our old cat was diagnosed with cancer and died shortly after the diagnosis. Our little kitten who came from a large cattery was very unhappy, and did not like being alone. At that time there was no other Turkish van cats for sale in our country, so we decided to buy a Turkish angora to keep Malou company untill she one day got her own kittens.
In 2005 it was time for kittens. Our Soyadi's Anamur gave Birth to 3 kittens, and this started our breedingprogram.
Click here to go to the top of the site