Home » Males » Safkan Kedi's Zeus
SC - Safkan Kedi's Zeus
EMS-code: TUV d 62
Born: 29th of June 2008
Pedigree
Zeus is from our G-litter who was named after Greek Gods. The G-litter had 6 kittens.
We chose Zeus to be the one who should continue our breeding program. The choice came because of his great temperament and his very huge succes on catshows all over Europe.
Zeus got the title Supreme champion which is the highest normal title a cat can get within FIFé.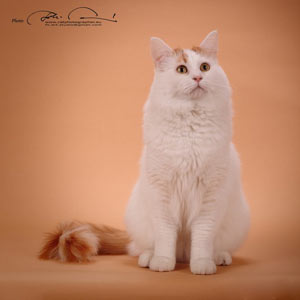 Zeus is a very charming cat who is very attached to Mads. He is talking constantly.
He likes the ladies of the house and of course the kittens, but he does not get along with the neutered males in the house.
At shows Zeus had done it really well. He had achieved nominations on more than half of his shows but we have chosen to withdraw him from further shows because its not that easy to have a fertile male with you in hotels and the fact that he does not like our neutered Pierre forced us to let Zeus stay at home after he got his title.

Zeus has so far only had a single litter with our Cami and besides her he has had a few visits from females outside our house.

Zeus is genetic a dilute carrier.
Zeus is tested negativ for FELV - FIV December 2012
Zeus birthweight: 100 g
Zeus weight 4 years: 5,2 kg

Zeus has got the following kittens in our house:
H-litter: Born 15th of July 2011:
Safkan Kedi's James Dean (TUV d 62) - Neutered
Safkan Kedi's Grace Kelly (TUV d 62) - Fertile in our home
Safkan Kedi's Marilyn Monroe (TUV d 63) - Neutered
Safkan Kedi's Ingrid Bergman (TUV d 62) - Neutered
Zeus has got kittens with other females:
2010: Mating with Soyadi's Cuna Yakin Kiz - owned by Jytte Hartmann. The result was 5 incredible beautiful kittens. One cream and 4 auburn kittens. All sold as pets.
2011: Mathing with Hümeryra von Frankenthal -owned by Barbara Hassenteuffel. The result was 2 kittens who both are sold as pets.
2012: Mating with Rytorps Holy Diver - owned by Emma Berggren. The result was 5 kittens. A few of them might be seen in breedingprograms in Sweden.
Click here to go to the top of the site